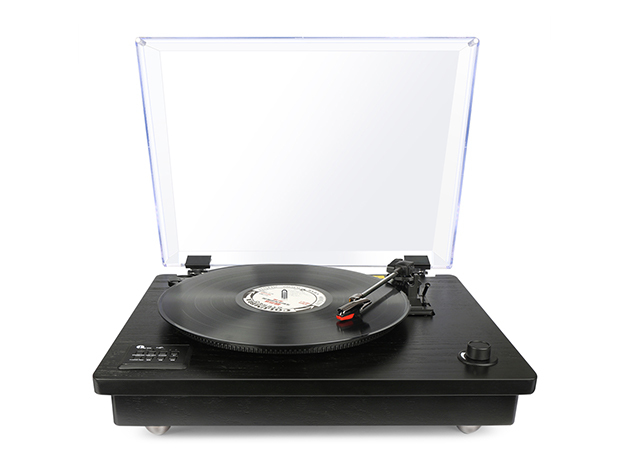 Digital music may be the standard today, but America's got an eternal soft spot for vinyl. The experience of spinning records on turntables is unique – and music fans don't want the march of technology to consign the turntable to history's dustbin.
Thankfully, the folks at 1byone are mashing modern and old school together in one package with their Belt Driven Bluetooth Turntable, now $114.99 – 32% off – in the Boing Boing Store.
With its traditional appearance and dust cover, it looks and plays like a traditional turntable…but under the hood, it's strictly 2016. In addition to playing 33, 45 and 78 RPM records, you can connect the turntable to any portable device via Bluetooth and stream digital music through its stereo speakers.
You also can listen to your records anywhere with vinyl-to-MP3 recording, digitizing your stacks of wax into MP3 format for playback on your mobile devices.
Get the best of both audio worlds with the Belt Driven Bluetooth Turntable with Built-In Speaker at a substantial 32% discount while this deal lasts.