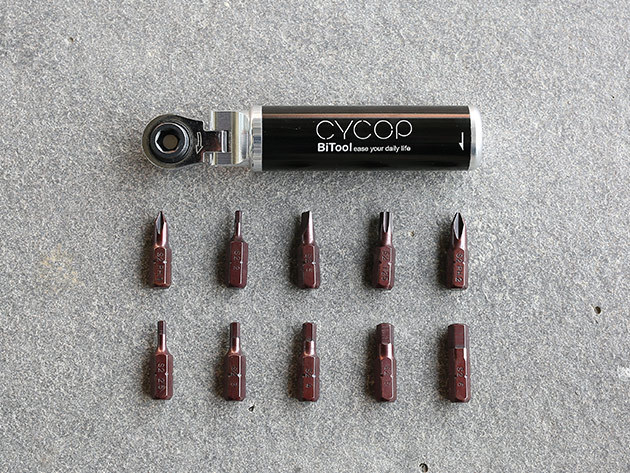 Toting around a giant toolbox is how your grandparents fixed stuff. Bring your repair jobs into the modern day with the 10-bit Cycop Bitool, now a discounted $39.99 in the Boing Boing Store.
This handy tool replaces the mountain of tools that's been driving you nuts, and can handle virtually any repair job you throw at it. It's a screwdriver and ratchet wrench all in one package, allowing you to fix stuff quickly and easily at a moment's notice.
The Cycop Bitool's 10 ultra-hard S2 steel bits fit nicely inside its slim aluminum casing, which you can carry around for everyday use. Just drop a bit securely on to the Bitool's magnetic ratchet head and you're ready to reach screws and bolts that a regular screwdriver or wrench couldn't touch.
Once you start appreciating the simplicity of the Bitool's flexibility and Swiss Army knife-style versatility, it'll become a mainstay of your repair jobs.
The Cycop Bitool usually costs $45, but it's available right now for just $39.99 while this offer lasts.