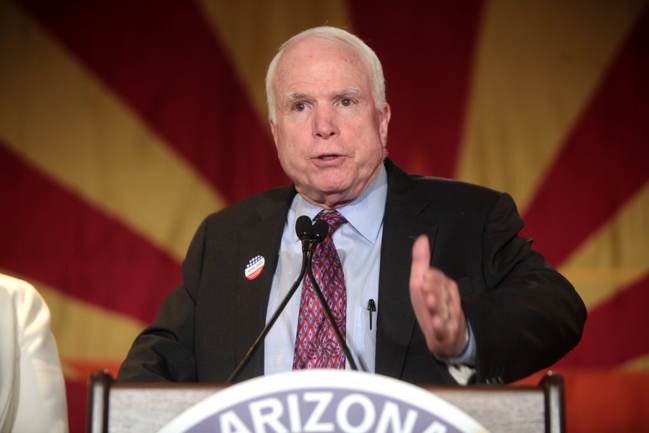 What happened to John McCain? He used to be a run-of-the-mill sleazy politician that even some Democrats could think of as being somewhat reasonable, but over the years he has slowly sunk to the level of the unhinged mouth-foaming carpet-chewers of the dying Republican party. It's been a sad thing to watch. On Thursday McCain accused Obama of being "directly responsible" for the mass shooting in Orlando, Florida.
AP:
"Barack Obama is directly responsible for it, because when he pulled everybody out of Iraq, al-Qaida went to Syria, became ISIS, and ISIS is what it is today thanks to Barack Obama's failures, utter failures, by pulling everybody out of Iraq," a visibly angry McCain said as the Senate debated a spending bill.

The gunman, Omar Mateen, killed 49 people and injured more than 50 in the attack at a gay nightclub. The 29-year-old Muslim born in New York made calls during the attack saying he was a supporter of the Islamic State. But he also spoke about an affiliate of al-Qaida and Hezbollah, both of which are IS enemies.
McCain later "clarified" that he doesn't think Obama was "personally responsible" for the deaths of 49 people in Orlando, it was "Obama's national security decisions" that killed them.