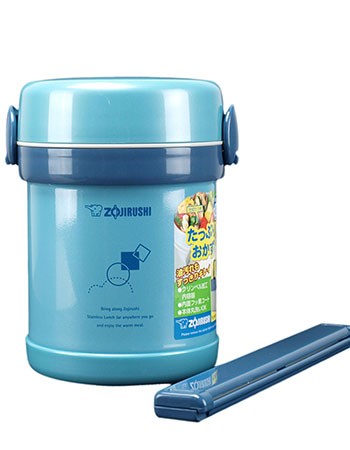 I'm pretty excited about these super convenient bento-style lunch jars.
I was acting as a volunteer chaperone on my daughter's 3rd grade field trip to the sewage treatment plant, when I saw this most wonderful lunch box. All the eager learners had gathered on the foul smelling lawn, and were extracting their various meals from the usual selection of tupperware, brown paper, and pop culture lunch boxes when I saw a future world leader with her Zujiroshi Ms. Bento lunch jar.
Oh, what a dream! Two large food storage containers fit snugly inside an insulated thermos. The containers are microwave safe, the lids screw down and keep food, and liquids in. You can wash them in the dish washer, if you like.
The insulated jar is great. I hate having to predict tomorrows lunch for my daughter, and then making sure I have the right freezer packs, or insulating sleeves available to keep the food at the right temperature for her highness. With this 2 compartment system, the food will hold its temperature for hours, 6 says the marketing. Know thee well that the temperature will equalize between the two compartments inside the single insulated jar. Do not expect stew to stay hot, and ice cream to stay cold. There is, however, a model for that (kind of.)
Clean up is simple. Generally, you can just wash the containers out in the sink and set them to dry, but if you wish they can also take a spin in the dishwasher. The jar you can just rinse off.
The 2 compartment set up is perfect for a grade or middle schooler's backpack. If you feel the need for more compartment, you can buy a larger jar. The 4 compartment Mr. Bento with insulating divider, looks good but I'm eyeing the Classic Bento for hiking day trips, it seems plenty large for Nemo and I.
Two Compartment Zojirushi Ms.Bento Stainless Lunch Jar, Aqua Blue, via Amazon
Three Compartment Zojirushi Classic Bento Vacuum Lunch Jar, via Amazon