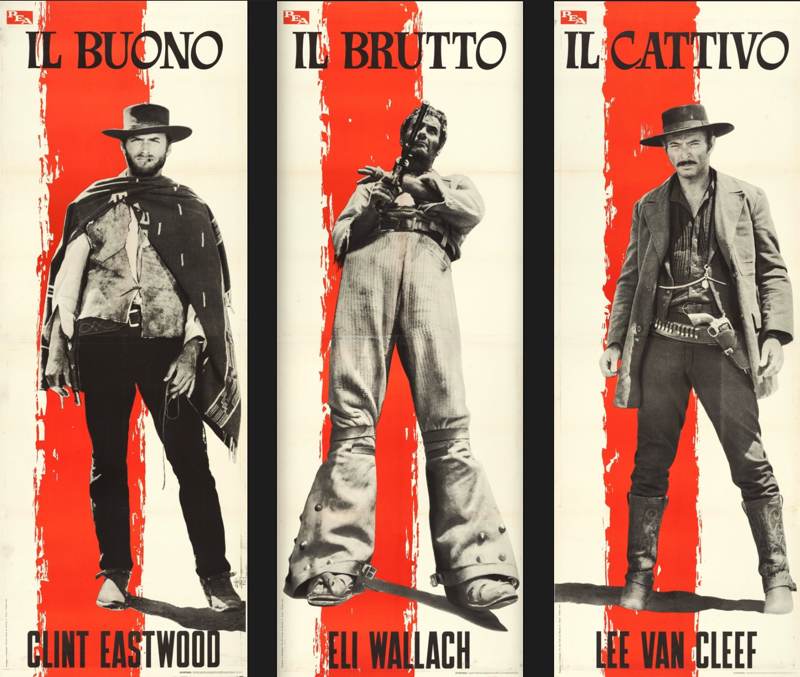 A trio of iconic posters for the world premiere of The Good, the Bad and the Ugly (PEA, 1966) is set to star in Heritage Auctions' upcoming Movie Posters Signature Auction, July 30-31. The final epic from Sergio Leone's Man with No Name trilogy, it is ranks amongst the best westerns ever produced. Each poster features one of the three stars; Eastwood, Van Cleef and Wallach. The set was produced for the film's December, 1966 world premiere in Rome, a full year before the American release. Each measuring 39" X 110," they are easily the most powerful posters created for the film. The scarcity of these linen pieces is second to none, as very few from the minuscule production run were saved.
Full Auction Description:
The Good, the Bad and the Ugly (PEA, 1966). Italian Premiere Displays Set of 3 (39″ X 110″).
Following the success of A Fistful of Dollars and For a Few Dollars More, audiences were clamoring for more of director Sergio Leone's brash new style of Western. Executives at United Artists approached Leone, screenwriter Luciano Vincenzoni, and producer Alberto Grimaldi to gauge their interest in a third film.
A deal was struck insuring a budget of $1.3 million and production was soon underway. In Spain, an international cast and crew was assembled which featured Clint Eastwood, Lee Van Cleef, and Eli Wallach in the feature roles. But even with a powerhouse director and three first rate stars, the production was plagued with mishaps, several of which threatened the very lives of the stars. Eli Wallach recalled that on one occasion, a crew member placed a jar of acid next to his soda. When Wallach reached for his drink, he inadvertently drank from the acid, nearly poisoning himself in the process! Stories of a film set, out of control, became almost as legendary as the film itself. In the end, the film proved lucrative for United Artists with a worldwide box office take of over 25 million dollars!
Opening in Italy in 1966, American audiences had to wait over a year for the film to hit their shores. But by then, word had spread that this "Spaghetti Western" was nothing short of sheer genius. This trio of country of origin posters was created for the Rome premiere of the film on December 15th, 1966.
Each display is composed of two panels depicting the three stars; Eastwood, Van Cleef and Wallach. These three pieces are arguably the greatest posters ever created for the best and final film in The Man With No Name trilogy. The scarcity of these posters is second to none and an opportunity for ownership is not likely to come along again any time soon. The posters have small chips, tears and pinholes in the borders, small stains at the bottom and small chips and tears along the folds. The Eastwood poster has a tear in his foot and leg and a toned horizontal crease at the top. The Van Cleef poster has diagonal tears in the …read more