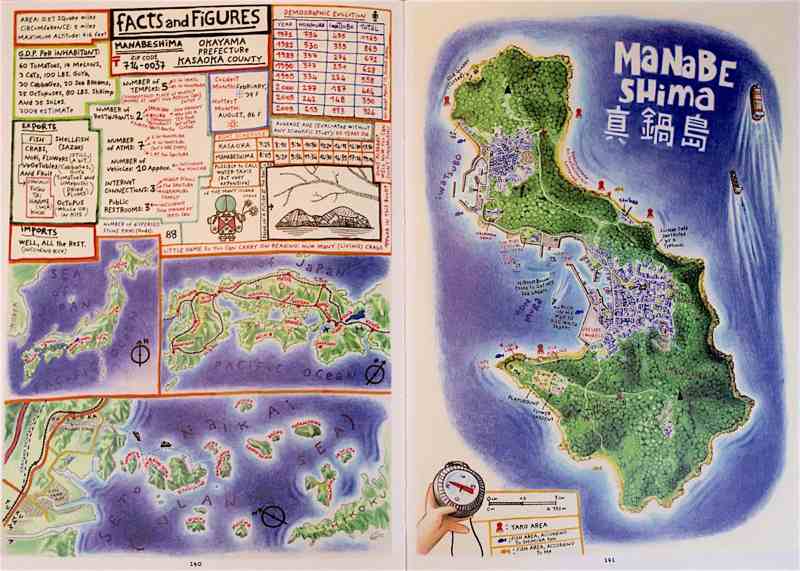 In 2009, illustrator Florent Chavouet decided to shrug off city life and get lost somewhere off the beaten path. Way off the beaten path. Stating, "The country [Japan] claims more than four thousand islands. But I only know two," as reason enough and taking pencils in hand, Chavouet traveled to the smallest, most isolated island he could find: the small fishing island of Manabeshima.
A good travel diary is built on unfamiliar, sometimes incomprehensible scenes brought to life by the ability of its author to paint pictures in the readers' minds. He or she must make both the physical and cultural descriptions of a place and its people understandable, and relatable. In lovely, delicate colors, Chavouet does exactly that. Whether it is by detailing the furnishings and artifacts layered in a photographer's home or in the odd and surprising detritus cluttering up the local post office, the author shows us all the minutia of daily life on this tiny island.
Chavouet has a knack for finding the little details that define people and places in our minds. We meet Hironobu, whose "round belly fills him with joy." We meet a nameless vagabond who seems to take delight in inserting himself into Chavouet's personal space. We meet Reizo-san, an old man who taught English in Hiroshima after the war. And on and on until it seems that the entirety of the town must have come straight from central casting just to populate this charming locale.
In between and alongside the descriptions and sketches of people and places are all the tiny things that make up daily life. There are sketches of fish and vegetables and maps of the local cat gangs' territories. There are structured stories about spending a day crab fishing or attending the village festival. There is a glossary and an appendix and even a fold-out map of the island.
I had never heard of Manabeshima before I picked up this book. I still have a hard time finding it on a map. But that's not really all that important. What matters is Chavouet's sense of earnest enthusiasm. It's contagious. Which makes this a book worth reading again and again while you plot your next adventure. While watching a local production about gods and devils, Chavouet notes, "[It's] A bit on the light side for a script but it makes you want to be in it." I guess you could say that about Manabeshima, too.
Manabeshima Island Japan: One Island, Two Months, One Minicar, Sixty Crabs, Eighty Bites, and Fifty Shots of Shochu
by Florent Chavouet
Tuttle Publishing
2015, 144 pages, 7.5 x 10 x 0.6 inches (softcover)
See sample pages from this book at Wink.