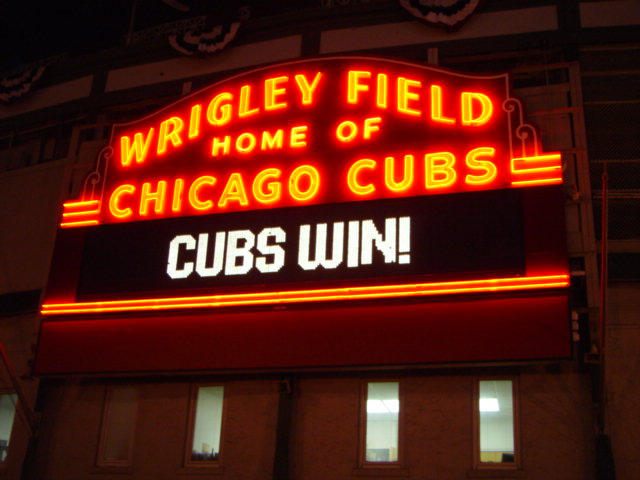 Oh, just the 7th largest gathering of humans in history happened last week.
Five million of the most patient humans in the world — Cubs fans — descended on Chicago's lakefront last week to celebrate a victory that was against all odds. But win they did, ending the longest World Series drought in baseball history — 108 years — and the lifting of the Billy Goat Curse. Friday's event was the 7th largest get-together in human history, about a million shy of the 2015 papal visit to the Philippines. The rest of us can keep it simple and get a glimpse of the Cubs on The Tonight Show Monday. The event in Grant Park turned out to be a pretty tame party for Chicago, when you consider the things fans have done over the years to try to lift the curse.
But first, what is the Billy Goat Curse? In 1945, Billy Goat Tavern owner Billy Sianis and his goat were ejected from Wrigley Field during Game 4 of the Cubs first World Series since 1908. Apparently the goat's odor was offensive, Sianis was offended and enraged, and legend has it that he declared, "Them Cubs, they ain't gonna win no more." The Cubs lost the game that day and haven't even been a contender in another World Series, let alone champions, in the 108 years since. Until last week.
Actual Things People Did — and Ate — To Lift the Curse
As the century passed without a win, younger generations sought to "reverse the curse." Here's a few notable attempts from just the last ten years:
Hanging a butchered goat on the statue of beloved Cubs sports announcer, the late Harry Caray, famous for his hearty rendition of "Take Me Out to the Ball Game." Passionate move, folks, but gross.
Tried a kinder, gentler approach and had a priest bless the dugout. Nope.
Went back to goat butchering, this time hanging just the severed head of the goat on the Harry Caray statue. Chicago minimalism.
Five fans calling themselves "Crack the Curse" traveled with a goat named Wrigley from Arizona to Wrigley field on foot in 2012. Nice try, and how did the goat like it?
Not to be deterred, butcher-prone fans again went with the severed goat's head in 2013 but this time delivering it the Cubs owner. Very theatrical, but no dice. Also bad manners.
Last year, in possibly the most ardent show of the curse-lifting lengths of disgust that Chicago fans will go to, five of them consumed a 40 lb. goat at Chicago's "Taco in …read more