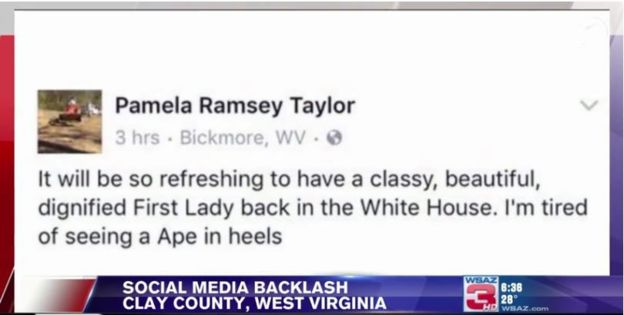 A racist facebook post describing First Lady Michelle Obama as "a Ape in heels" was so satisfying to read it made Clay, W. Va,. mayor Beverly Whaling's day.
Pamela Ramsey Taylor, who runs a local non-profit group in Clay County, referred to the first lady as an "ape".

"It will be refreshing to have a classy, beautiful, dignified first lady in the White House. I'm tired of seeing a Ape in heels," she said.

Local mayor Beverly Whaling responded with "just made my day Pam".

Ms Whaling is mayor of the town of Clay, which has a population of just 491.

It has no African American residents, according to the 2010 census. In Clay County as a whole, more than 98% of its 9,000 residents are white.
Taylor was immediately fired after the exchange was spotted by local newshounds at WBAZ. Taylor says her words could be "interpreted as racist, but in no way was intended to be," and she's going to sue someone over it all for slander. Whaling told the Washington Post that "My comment was not intended to be racist" and apologies for it "getting out of hand."